Buffalo fine art boudoir & Intimate portraiture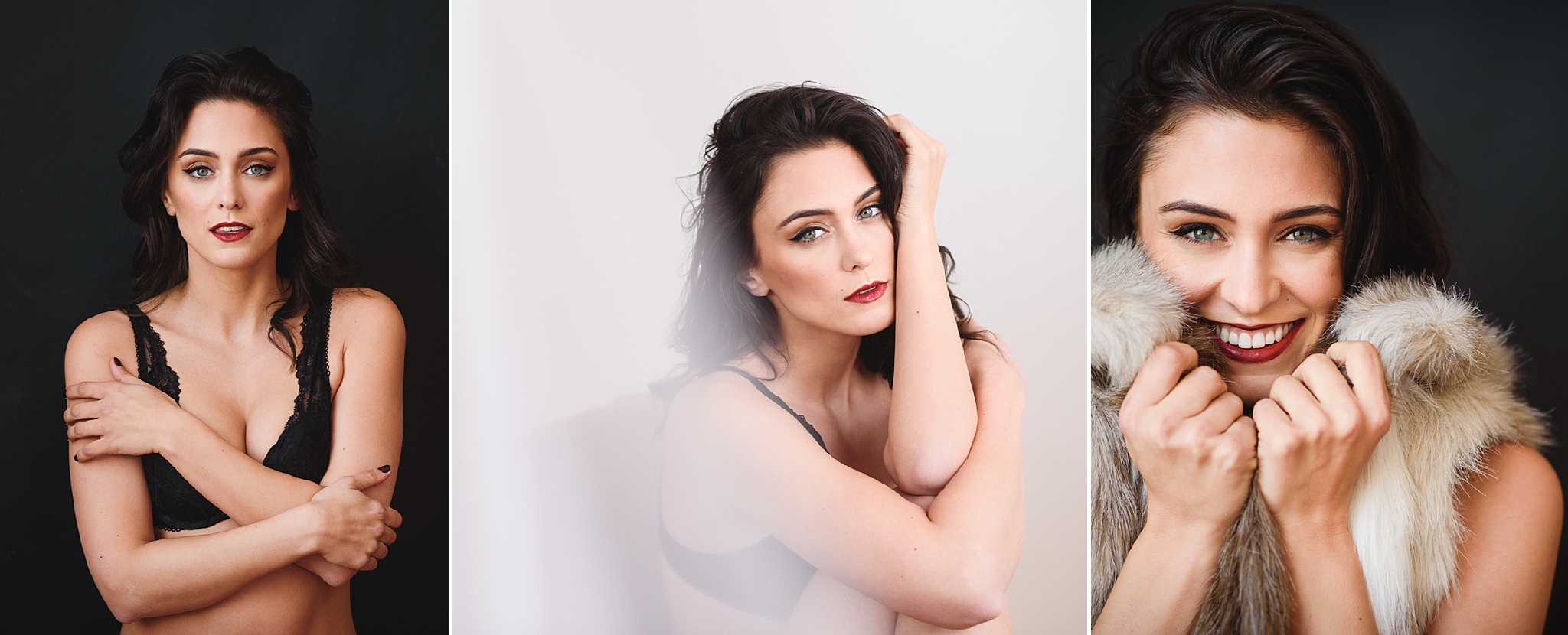 Boudoir is Artistic. Empowering. Sexy. Classic. Fun. Beautiful.
Boudoir! What do I love about it? Everything. I love it because I believe that every single woman deserves to feel confident and beautiful in her own skin. Boudoir is for everybody and every BODY. As artists have known for thousands of years, the human figure is a work of art. It should be celebrated, admired, cherished.
That's actually what first drew me to the genre of Boudoir photography; its classically artistic potential. That might sound surprising, but I come from a background in fine art and painting, so I've spent countless hours in classrooms and studios drawing, sketching, and painting the human figure and appreciating it for it's form and beauty. For me, Boudoir is the photographic version of that.
Embracing our bodies for the works of art that they are is a powerful experience. I find that my clients feel empowered and confident. They feel sexy and beautiful, whether that's something they feel every day or something they haven't felt for a long time.
Women are multidimensional. Gone are the days when women need to succumb to the pressure to fit into one cookie-cutter version of their much more complex selves. You can be the world's best mom AND a successful business woman. You can be strong AND vulnerable. You can be brilliant AND a complete goofball. You can be resilient, feminine, sexy, ambitious, determined. You can be whatever combination of these things you'd like. You can be whoever the hell you want to be. Each of us is unique; a combination of many characteristics and we need to let each of these facets of ourselves shine. My point? You are allowed to be sexy.
You deserve to take a few hours out of the hectic hustle & bustle of day to day life, let your guard down, and let the sexy, fun, feminine side of yourself take over for a few hours and indulge in something for YOU - you deserve it.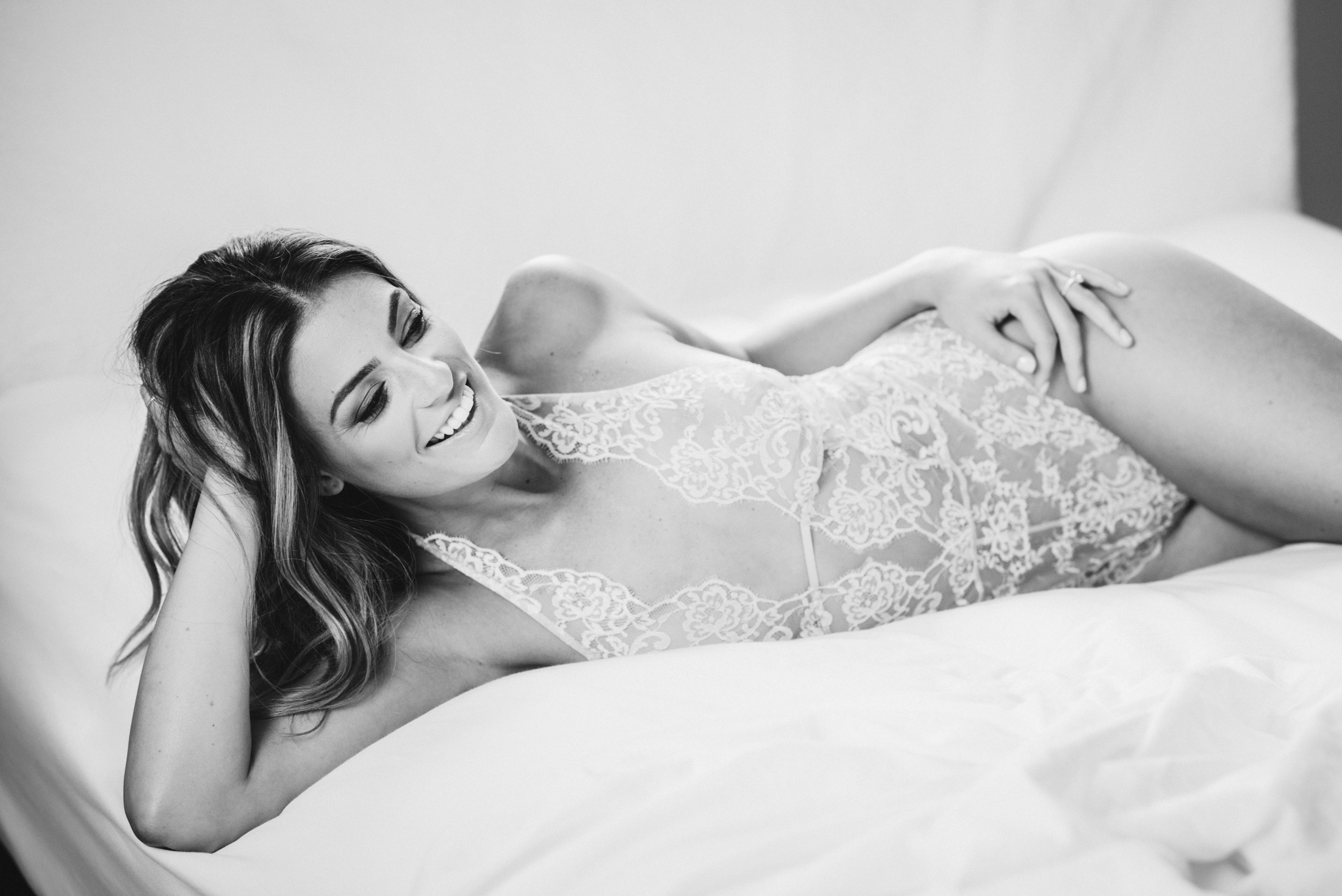 Here's what some of my rochester fine art boudoir clients have had to say about their experience and photographs..
"I have worked with Katie many times and every time I am absolutely blown away. Katie has a natural ability to make you feel at ease during shoots and bring out your true self. Her boudoir shoots are no exception. Not only was Katie a true professional for this intimate experience, but she was also fun, calming, encouraging and inspiring. I have never felt more relaxed, happy and natural in a shoot. Katie has a real gift for bringing out the best in her subjects and that shows in her boudoir work. You may assume boudoir shoots could be awkward, but with Katie that could not be further from the truth. She guided me the whole time, knowing exactly what poses, positioning and angles would work best for me. It was so much fun and I left feeling more confident than ever before. Not to mention the photos are absolutely beautiful! Her angles, use of light and composition turn the photos into a piece of artwork. An exhibition of intimate beauty, done in a personal and classy way. I am beyond thrilled with my final photos, I have to stop myself from showing everyone!" - H
"I cannot say enough great things about Katie. From the second I met her, everything was so positive, so easy, and so comfortable. She has such a positive energy about her that makes the entire process of shooting simply amazing. Throughout the entire shoot, every comment made and tip thrown were not only helpful for myself, but uplifting personally. Getting your picture taken in lingerie is something unfamiliar and strange to most women - but Katie made me feel so incredibly comfortable not only in the shoot but in my own skin, and I actually left the shoot with a little more confidence because of her! I could not be happier with the way my boudoir pictures came out. She has a true passion and love for her art and it radiates in herself and through the images she takes. I already can't wait for her to be my photographer for all my future life events!" - J
"My friend from the area had just previously shot a boudoir shoot for her hubby with Katie & remembered that I've always wanted to do the same for my fiance. So, I grabbed my best friend, a couple of cute outfits and had a mini road trip (from Syracuse) a few weeks before our wedding. The whole experience was amazing; Katie was so warm & inviting, her home was beautiful & her ability to make me feel not only beautiful, but comfortable & like we've been friends for years was unparalleled. The whole thing was fabulous; mimosa bubbling, getting glammed (by her makeup artist Eva who I highly recommend), & 90s music blaring in the background was so much fun. I've had a few friends since then use Katie & have all come out of the experience with such respect and admiration for Katie and her ability to make a simple idea turn into tasteful, inspired art. The pictures truly came out even better than I imagined! Thank you Katie for making me feel comfortable, beautiful & empowered. My hubby loved the photos!" - S
"I'm obsessed, these came out better than I imagined!!! Thank you so much for making me feel comfortable and beautiful!!!!!" - E
"I had never done anything like a boudoir photo shoot before so I didn't know what to expect when I arrived. Katie instantly made me feel comfortable and relaxed. Ahead of time, Katie even arranged and scheduled a makeup artist for me so I started my day with makeup and a mimosa! Katie helped me pick out my outfits, showed me poses (and demonstrated them too when I needed) and made me feel like a model. Katie is so sweet and so much fun to work with. Most importantly, the photos came out phenomenal and I am so happy with them! Everything about the experience from start to finish was amazing." - E
"The week before my boudoir photos I felt really anxious about it. I kept wondering if I'd embarrass myself or if the pictures would look okay. Working with Katie put all my fears at ease! Katie was encouraging, complimentary, and she made me laugh. I felt more comfortable and more confident than I expected to and I felt sexy and empowered afterwards. The pictures came out beautiful- just like everything else Katie does! I'm so glad I booked my boudoir shoot with Katie and would do it again in a heartbeat!" - B
"The thumbnails that I had looked at when selecting the pictures were sooo good but I was absolutely blown away by the book and the layout and how great the pictures were up close. Absolutely blown away and thrilled beyond belief. Thank you so much! I don't have more words to tell you how excited I was to see it and how fantastic it is. Thank you! .. It was a truly magical experience!" - A
"I am someone who would consider myself body-shy but I knew that this would be the perfect gift for my fiancé and I'm so glad I did it! This was hands down the best experience I could have had with boudoir photos. When I was researching the prices of some of them were very high and to be honest with a wedding I was paying for I tried to be conscious of that, but I also wanted classy, sexy photos. With Katie I got a great price and awesome photographs! Katie was absolutely great with making me feel comfortable at the start! I am someone who needed some direction and she did just that. She will ask you what kind of photos you're looking for and make sure you get just that. Katie even took extra shooting time to make sure we got the perfect shots. The make-up artist was also great and asked what specific look I wanted paired with how I normally wear make-up so that I would look more my natural self. I am VERY happy with my finished product and cannot wait to give this to my fiancé. This is an experience I would definitely do again and would absolutely use Katie and recommend her to anyone looking for amazing photos!" - M
"My boudoir shoot with Katie was one of the most empowering experiences I've ever had. Like many women, I've had many years of not feeling comfortable in my own skin, and I was extremely nervous upon arriving at the studio. However--Katie truly made me feel completely comfortable, and I genuinely had FUN. She poured me a mimosa right away, blasted a playlist of my choice, and engaged in lighthearted casual conversation, as if we were just hanging out (as opposed to me being photographed while scantily clad). The photographs and book are absolutely beautiful, and I am so impressed with her work! I highly recommend booking a boudoir shoot with Katie; she cares about her work and her clients, and is certainly the kind of professional you want to spend your time with." - D
"I reached out to Katie for a boudoir photo shoot to gift my husband for Valentine's Day. At the time, we were also preparing to begin trying for our first child and I really wanted some photos of my pre-baby body since I wasn't sure I'd ever feel quite the same again! Katie was AMAZING throughout the entire process and made me feel so relaxed and comfortable. We discussed a lot of my vision beforehand and she captured everything I was hoping for, so beautifully. Something that I expected to feel very unnatural to me, was made easy with Katie's guidance and confidence. After the shoot, we reviewed the photos together and she assisted me with finding the best option for a photo book. We now have a beautiful, intimate keepsake forever! I have already recommended her to my friends and will continue to, she's amazing!" - B
I just wanted to thank you again for the amazing boudoir photos and the photo book! I gave the book to my husband yesterday for Valentine's Day and he loved it!! He was so surprised and impressed with how well the photos came out, and he can't wait to see the extras that I have to send him randomly. Thank you for making me feel incredibly beautiful and sexy, your work is absolutely spectacular! - J
"Katie, The opportunity to work with you was an absolute dream. Your positivity and professionalism made the entire process relaxing and enjoyable - from makeup with Eva, to mimosas and bearing it all in front of a stranger - there wasn't a moment I felt exposed or uncertain. Never in my life have I felt so beautiful and comfortable in my own skin. On top of it all, the phonebook turned out even better than I could have ever imagined, and something I'm sure I will treasure through the many years to come. Every woman deserves a complete embracement of femininity and self, and this experience was nothing short of that. Thank you again from the bottom of my heart for the WONDERFUL experience. I couldn't recommend you enough!" - A
"I contacted Katie for a boudoir shoot as a gift to my husband. From the beginning, I was pretty nervous - I've never fully been comfortable in my own skin, so getting in front of a camera didn't necessarily sound my idea of fun. However, this gift for my husband really turned into a gift for me, too! Katie took care of all the details. From greeting me with a mimosa, walking me through poses, and having casual conversation as if we'd been friends for years, Katie made me feel so comfortable... I'd never felt so confident with my body as I did on that day. When I actually got the photos and album back, I was blown away by the quality... and so was my husband! Thank you, Katie, for everything - you are truly gifted at what you do." - B
Think you might be ready to schedule a fine art intimate portrait session?! Or you're on the fence about the whole boudoir thing and want to learn more!? Fill out the short contact form below so that we can start a conversation! I can't wait to hear from you!